Manjunath Rao
President - Managed Services
The ATMs of today have the potential to make the future of banking both 'assisted and inclusive'. What started as a simple cash dispensing booth along with receipt features has metamorphosed into an internet-enabled contraption that can do much more, provided the right resources are invested.
Much beyond traditional cash dispensers.
With the relevant kiosk hardware upgrades and user-centric features, the apt banking vision can bring ATMs right to the genesis of the branchless banking system. In a secure environment inside an ATM kiosk, customers can access a full suite of banking services which would improve their experience and satisfaction. The fact that ATMs can be programmed to cater to multiple languages in a multilingual country like ours is another big plus.
ATMs have been evolving to offer more assisted banking services, allowing customers to perform a wider range of transactions as a virtual assistant offering features such as video tellers for video chat with a bank representative, biometric authentication to access accounts and cash recycling for cash deposits to avoid a branch visit. Further, the ability to do cardless banking through QR-based mobile interactions adds to the growing mobile economy, alluring users and reducing the impact of the Covid-19 pandemic on ATM transactions worldwide.
Meanwhile, ATM associations worldwide are also looking to enhance the features in ATMs with functionality such as investments in cryptocurrencies wherever available, enabling emergency cash or overdraft features for users and the ability to deposit cash in any bank ATM instead of the current limitation of depositing only in the user bank ATM.
Today, despite the continuous rise of digital banking, branches & ATMs continue to drive value by influencing customer satisfaction more significantly than digital channels. As India expands its banking coverage, ATMs will have to play a pivotal role in India's financial inclusion, especially in rural areas. Initiatives such as the PMJDY (Pradhan Mantri Jan Dhan Yojna) and NRLM (National Rural Livelihood Mission), along with the introduction of mobile ATMs and DBU outlets, are helping to bridge the gap and provide access to banking services to people in rural areas.
With the inherent advantages of providing efficient and low-cost banking transactions to individuals, ATMs can emerge as an accelerator for inclusive economic growth for the masses in the country by offering a full suite of banking services.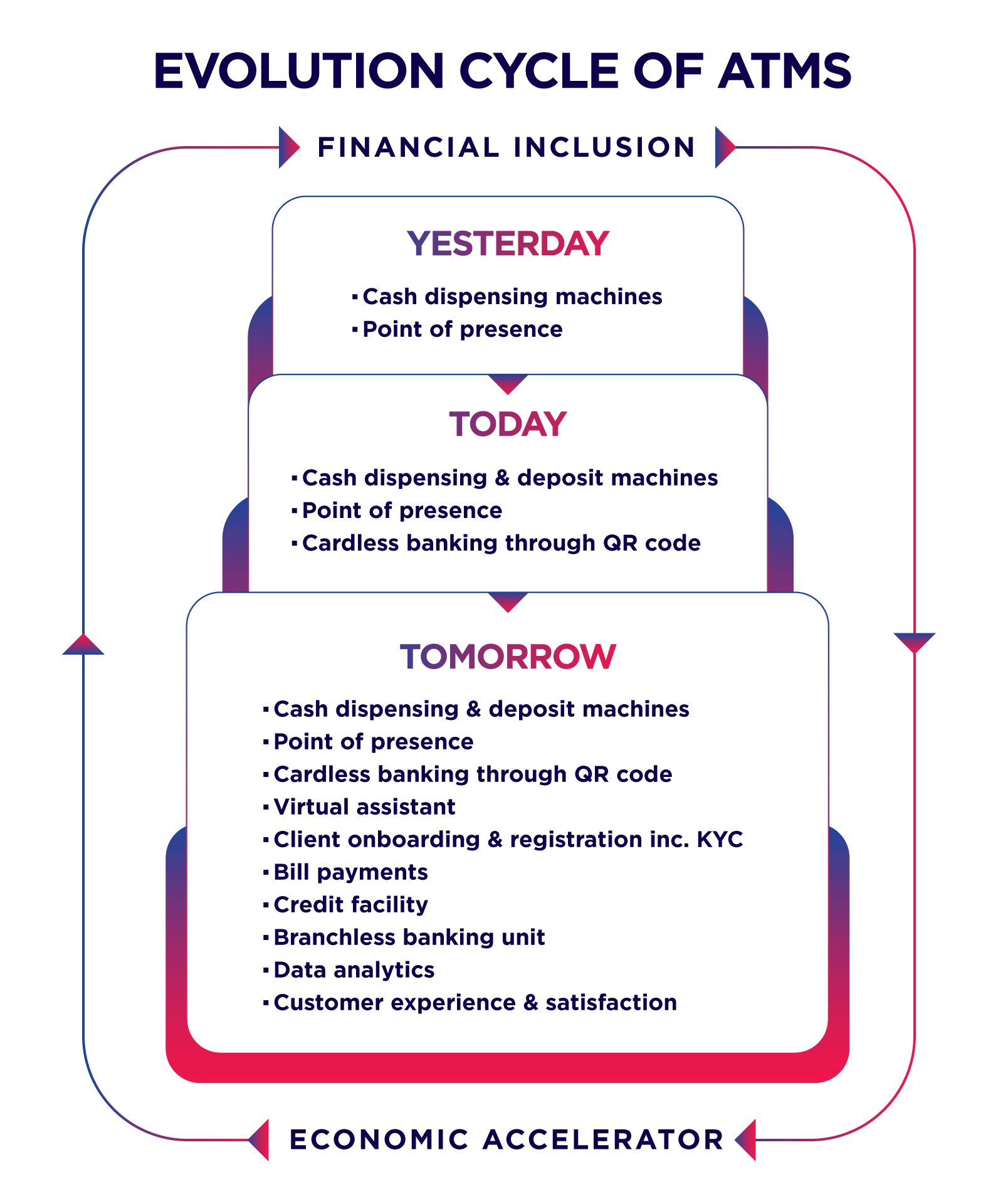 Improving customer experience and efficiency, there are countless benefits of an evolved ATM strategy.
Data analytics-led customer experience - The data supplied from the ATM network can also enable banks to have a lot of handy data analytics regarding usage and demand from consumers. For instance, some ATMs might have more footfalls than others, allowing banks to ramp up the booths in the active area. Similarly, the demand from the consumers at the ATM also enables the bank to customise the booth for a better user experience, such as the denomination of notes in demand or providing tailored recommendation basis transaction history. With the advent of artificial intelligence (AI), all this data collected by the bank can be fed to enhance the user experience.
Central component to digital strategy - By centralizing ATM Channel Management to a single central command control, banks can enhance the customer experience as well as ensure the network has the latest security measures to mitigate the risk of fraud. A hardware-agnostic software solution would help banks update their widespread ATM network in real time and customize offers to customers. By linking ATMs to mobile banking and CRM systems, an evolved ATM strategy can play the role of an intelligent branch manager to offer a seamless banking experience to customers.
Improve efficiency - ATMs can work as branchless banking units to cater to multiple needs of investors. This reduces the property outlay for banks and the employee cost. ATMs can improve the efficiency levels of banks while also giving the employees much-needed relief from the regular branch operations, enabling them to focus on more value-added and personalised services. A vendor-agnostic ATM software, can provide considerable cost and operational advantage to banks and eliminate the need for physical intervention across the ATM network through remote control monitoring and tracking of electronic journals.
Being the world's 3rd largest ATM market after China & US, India is still significantly under-penetrated, with only 21 ATMs per 100K population compared to a global average of 40, with US & China at 174 & 81, respectively*. While we work towards increasing the ATM density across India, we should focus on making them more intelligent, efficient and suited to the many facets of Indian demography requirements and cater to the large unbanked population. A blended approach of human touch with technology would enhance customer convenience by replicating the branch experience in an ATM through responsiveness and empathy.
The role of the right ATM strategy becomes an 'assisted banking' experience in a hyper-local environment and presents an opportunity for banks to drive evolving banking services, be a personalized digital experience centre and be a financial inclusion facilitator as well in a unified way while providing connected experience to customers.
*Source: World Bank