Manjunath Rao
President - Managed Services
The global ATM market is expected to reach US$34.8 Billion by 2030, growing at a CAGR of 5.7% from 2022-2030. As technologies evolve and continue to transform the way businesses and consumers access money and manage their finances, the future of banking is set to undergo a change that will be marked by innovation and accessibility.
The greater part of this transformation will be led by banks that can converge various technologies to create enhanced customised user experiences at their customer-facing channels such as ATMs. We believe that this will enable banks to expand their branch network infrastructure profitably.
As financial institutions re-imagine their delivery channels with market-leading technologies amid the rapidly evolving consumer demands, Smart ATMs are paving the way towards 'assisted and inclusive' user experiences (UX) for customers. Today with more modern design and extensive internet-enabled device functionality Smart ATMs are more than just a simple cash dispensing machine.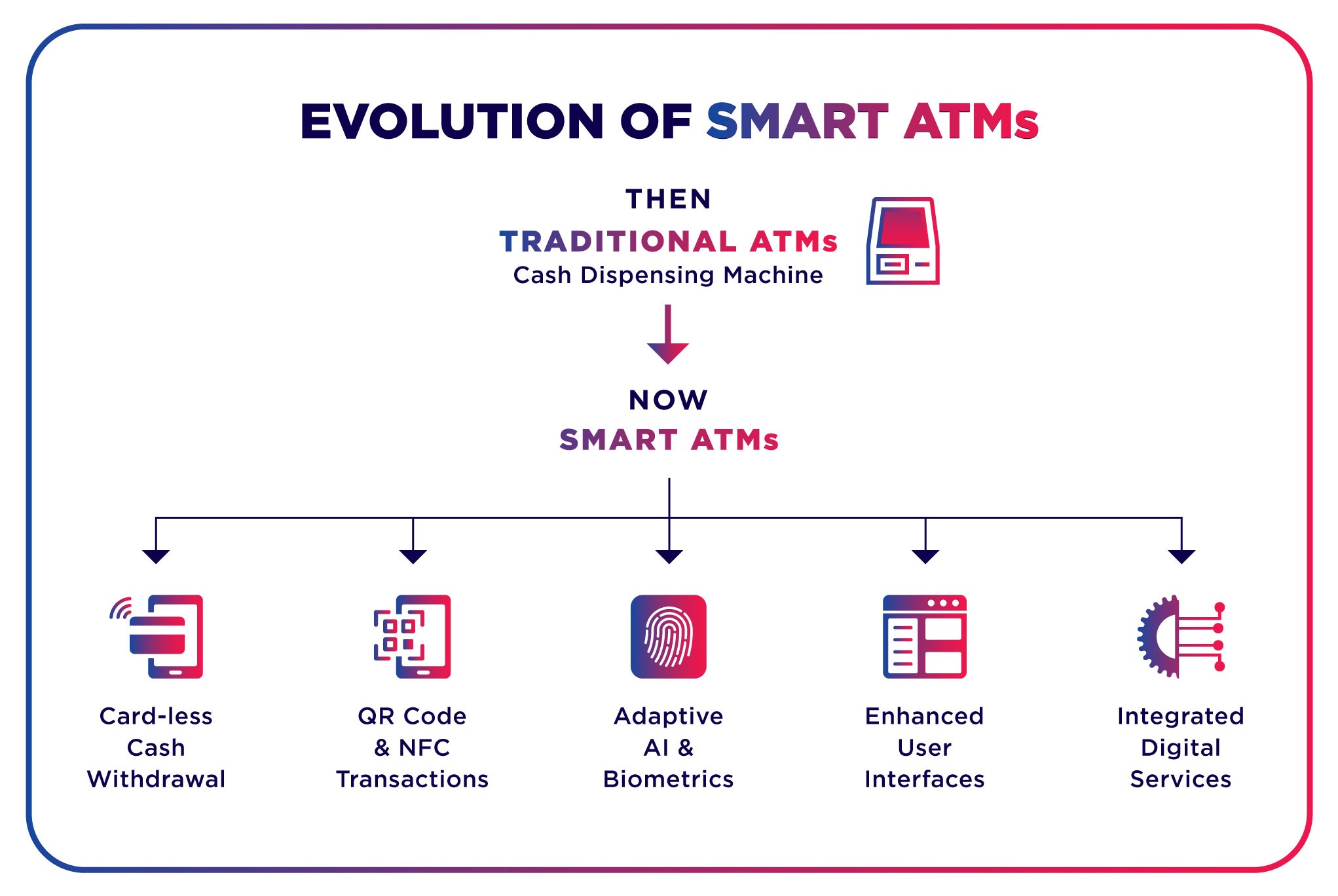 Today's Smart ATMs are multi-vendor software-enabled allowing banks to offer the following services to their customers:
Interoperable Card-less Cash Withdrawal (ICCW) at ATMs - Cash withdrawal feature using any UPI app. Users can simply use their phone to withdraw cash from the ATM, thereby converging digital and physical payment worlds.
QR-code or NFC technology enabled diverse ATM transactions from payments to currency conversions.
Emerging technologies like Adaptive AI, Biometrics, Platform engineering, and super apps can be vital in enhancing accessibility and simplifying ATM UX. As consumers increasingly embrace self-service technologies, an interactive ATM can address growing financial needs of the consumer.
Modernisation of ATM UX can enable financial institutions to leverage ATMs as catalysts for inclusive economic growth, offering comprehensive banking services. Today, multi-vendor software solution powers seamless and intuitive CX designed to meet customers' current and future needs efficiently. The solution helps deliver targeted marketing and sales messaging to different customer segments through hyper-personalisation.
The latest multi-vendor software (MVS) solution allow financial institutions to minimise the customer journey across several touchpoints. Additionally, artificial intelligence and data analytics deliver valuable insights into consumer behaviour and optimise ATM services across the country.
Here's what you should keep in mind if you want to elevate your existing systems to enhance ATM UX:
Enhanced customer experience - Omnichannel digital experiences enable hyper-personalisation with tailored & personalised offers and seamless interactions across multiple physical & digital channels, minimising consumer journeys while driving engagement.
Standardised User Interface (UI) - By prioritising consistency in processes like withdrawals, deposits, payments, and transfers across regions, banks, can offer delightful transactional experiences. This not only saves time and effort for users but also reduces wait times and improves bank's service-led brand perception.
Minimise User's journey - The core idea behind well-designed UX is reducing the user's journey. ATM UX developed through MVS, ensures that customers can manage any transaction with the least friction, with minimal steps, and quickly.
Multivendor Integration - Eliminating the need for physical intervention, multivendor integration allows financial institutions with both cost and operational advantages. Through remote control, monitoring and tracking of electronic journals, different functionalities can be introduced across ATM hardware and software. Simply put, a vendor-agnostic ATM solution enables easy procurement of ATM hardware and software from different vendors simultaneously.
Centralised management - Financial institutions should prioritise a centralised ATM channel management for real-time customer experience management and risk mitigation. A hardware and vendor-agnostic ATM software solution can enable hassle-free upgrades of software and technologies for financial institutions. Upgrading to the latest security measures can also ensure real-time threat detection and fraud prevention.
Improved efficiency - A vendor-agnostic ATM software allows financial institutions to streamline operations. This increases the accessibility and cash availability across ATM networks. The software also helps in faster incident resolution and operations, reducing errors and failures.
Empowering financial institutions through modernised ATM UX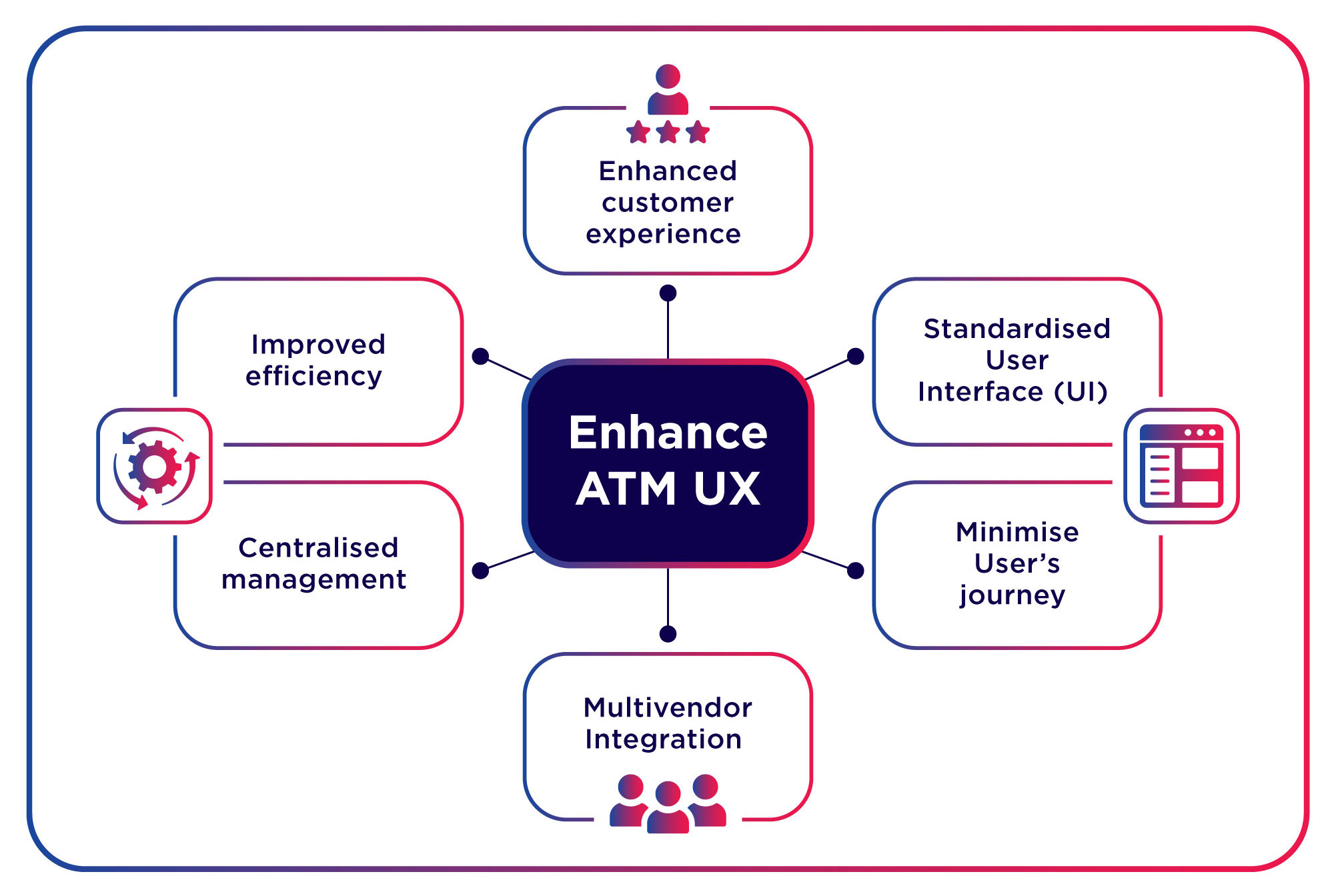 Financial institutions in India are all set to embrace Smart ATMs that will be mobile-centric. Taking a cue from 'Kiosks' in Retail and FMCG, financial leaders are prioritising strategies and technologies that empower their consumers to be in charge of personalising their experiences. Enhanced focus is being given to better functionalities that help consumers efficiently carry out transactions and tasks they desire anywhere, anytime and through any mode.
Modernising ATM user experience (UX) will bring numerous benefits to financial institutions and their customers alike. Financial institutions will be able to scale quickly in a hyperlocal environment by leveraging the assisted banking approach and self-service technologies. With the right strategy, Smart ATMs can evolve into personalised digital experience centres with increasing cross-selling opportunities.
The future is bright for financial institutions that view ATMs as an intelligent branch by being a financial inclusion accelerator while providing connected experiences to customers across all their customer connect points.
Disclaimer - This article has been first published in ET BFSI